Press Releases for KMW Interiors
Check out our featured interior design articles and other press releases, in this section. Contact Kita Marie Williams, interior decorator in Beverly Hills at KMW Interiors, to know more about our services.
8 Tips for Creating a Mindful Space in the Home
The Top 10 Home Trends for Fall, According to Designers:
Questions We All Ask: Is There a Difference Between Modern, Minimalist, and Contemporary Design?
Mindfulness helps improve concentration, reduces ruminative thinking that contributes to high levels of stress, helps us understand our emotions in healthy ways, and even bolsters our immune systems. By creating a mindful space in the home, we can keep stress and anxiety levels down and live an overall healthier life. Here are eight tips to help you create a mindful space in the home.
Set an intention
Before creating a mindful space, one of the first things you should do is set an intention. If you make mindfulness a goal instead of an intention, you create a rift between what you're experiencing in the current moment and what you would like to happen. With an intention, there's no required result and no pressure to achieve a goal. Intending to practice awareness or focusing on your breathing are two intentions that you can set for yourself.
Go big (or small) with your space
You don't need to dedicate an entire room to mindfulness—maybe you choose a sunny corner in your living room or a small table in your kitchen. "You could devote an entire room to meditation or just a corner of a room," says Joy Rains, author of Meditation Illuminated: Simple Ways to Manage Your Busy Mind. Rains offers the following examples as ways to achieve mindfulness in your existing space:

Carve out a small space in your basement or laundry room. Installing adhesive floor tiles and a sliding translucent screen for an outer wall can transform this nook into a sacred space.
Transform a bedroom corner into a private meditation space by using a sheer curtain as a divider.
Use a favorite chair in the living room.

When creating a space for meditation and mindfulness, prioritize somewhere you can be quiet and won't be disturbed, like a tucked-away reading nook or walk-in closet. According to Laura Sage, co-founder and CEO of CH/LL Meditation, even the smallest of homes can provide nooks of privacy (at least during specific times of the day). "Your meditation space should be your own space," says Sage. Remember: your intention for creating a regular meditation place is more important than the actual size of the space.

Declutter and organize
According to researchers at UCLA's Center on Everyday Lives and Families (CLEF), cluttered environments are tied to higher levels of stress. Annie Draddy, co-founder of Henry & Higby, a professional organization company, has seen first-hand the positive impact that the process of decluttering and organizing spaces has had on her clients. "Finding 'homes' for things so that they are no longer cluttering up surfaces helps to create a clean and clear space which in turn makes the home more tranquil."

Declutter your space by organizing your stuff into three piles: one for keeping, one for donating, and one for throwing away. Get rid of things you haven't used in a year and store small items like notepads and pencils in bins or boxes to reduce the look of clutter.

Eliminate distractions
If you live in a noisy area, add a white noise machine to your space to block out unwanted sounds or consider soundproofing your apartment with a plush rug or draft blocker. "While we should all be able to meditate with ambient noise, for newbies, the less noise the better," says Sage. Pare down on technology, especially items like laptops, tablets, and cell phones that can ruin energy flow and bring work and stress into your space. According to Kita Williams, CEO and lead designer at KMW Interiors, a California-based home staging and interior design company, TV should be limited to one place in the home, like the family or living room.
Increase natural light
A dark environment can cause you to dwell on mistakes you've made in the past, interrupting your intention to stay focused on the present. "Having good natural light tends to make you more aware of where you are and what needs to be done now," says Williams. Draw curtains in your space to let in more natural light. If you don't have a lot of natural light in your home, outfit it with good lighting. If you find dark spaces more relaxing, opt for candles or lamps that provide mood lighting—a 10-watt LED bulb and a warm-toned lampshade should do the trick.
Choose calming colors
Calming colors like pink, light grey, lavender, and light shades of blue should be in places where you intend to be more mindful. Neutral colors like whites, creams, and soft beiges can also help create a calming space. "The bedroom is a great place for such colors," says Williams. "However, it's up to you where you feel you need to have calming colors in the home. Everyone is different, but the effect of the use of these colors is the same." Add a neutral-toned throw blanket or soft cushions to your space for a more relaxing and cozy feel.
Use natural elements
Being in nature releases the tension in our bodies and allows us to breathe more deeply. Facilitating a mindful outdoor space can therefore play an integral role in the feeling and creation of relaxation. "Being outside is an automatic mood changer," says Williams. "Getting out into the fresh air and sitting for a moment is a great way to increase mindfulness. Anything that gives you a feeling that you're out in nature and part of the earth really helps to bring you to the present."

Molly Wood of Molly Wood Garden Design, a landscape design studio, recommends having a fountain with soft water noises to calm the nerves and relay a feeling of wellbeing. "A comfortable invitation to relax in the form of a hammock, daybed, or chaise lounge can also contribute to a feeling of wellness," says Wood. If you don't have an outdoor space to utilize, bring natural elements inside your home by surrounding yourself with plants.

Personalize your space
While it's recommended that you go the minimalist route when decorating your space for mindfulness (this decorating style helps avoid distractions and allows you to pay closer attention to your surroundings), you can still include a few personalized items that inspire you and bring you peace. J.A. Plosker, author of the multi-award-winning book, The Nobody Bible: Uncovering the Simple Wisdom in Ordinary Life, recommends putting up a shelf and filling it with simple items. "Maybe you lean a picture of a sandy expanse of beach on it and place a shell that you've collected. Or perhaps it's one green plant that you must tend to every day. No matter what else is happening in your home, that space is a dedicated reminder of what you want to create inside."
In Living Color

"Gray has been a trend the past few years, and we don't like it! Bring warmth back into your home with reds, oranges, blues, and greens. We don't shy away from color and neither should you."—Carolina von Humboldt, interior designer
"I think people are tiring of neutral and muted color schemes and are looking to use bolder color—in either traditional or modern interiors—to enliven their spaces." —Perry Sayles, interior designer
"Bold, autumnal hues are perfect for any room. Consider using Pantone's fall 2018 colors—Martini Olive, Valiant Poppy, Red Pear, and Quetzal Green—for a cozy yet dramatic look." —Kristen Ekeland, co-founder of Studio Gild
Fringed Benefits

"One design trend we're really excited about is fringe. You've already seen it popping up in fashion on earrings and blouses, but you'll see this technique applied to lamps and furniture as well." —Melissa Benham, co-founder of Studio Gild
Updated Greenery

"Switching from a succulent to a moss arrangement, or fiddle leaf fig tree to an olive tree makes all the difference. [You can also swap] lighter accent containers like woven baskets for heavier accents like antique stone." —Shannon Wollack and Brittany Zwickl, co-founders of Studio Life.Style
Back to Black

"The combination of dusty pink and black is making a strong resurgence. For example, a lovely blush wall with metal black bookcases, tables, and light fixtures. The pink is understated and the black offers a nice juxtaposition that gives the space impact." —Susan Petrie, principal of Petrie Point Designs
"I think black furniture is going to be a big color trend in 2019. It offsets the millennial pink and pastels trend, giving it sharp sophistication. When paired with with warm neutrals and mid toned woods it provides just enough edginess to keep a space balanced." —Maggie Cruz, interior designer
Au Naturale

"I think we're going to see an increase in the use of pared-back furniture and materials. A focus on unfinished woods with lots of visible grain and gorgeous patinas versus glossy, painted surfaces. I think we'll see this trend in furniture as a way to add warmth to the rise of mid blue-gray hues that are popular in paint right now." —Will Taylor, founder of Bright.Bazaar
All That Jazz

"I predict a rise in scallop and fan shaped patterns. Look for Art Deco references, from tile, to textiles, and everything in between." —Jean Liu, interior designer
"Keep an eye out for furniture and accessories that mimic the hallmarks of Art Deco architecture. Bold and dramatic, these pieces sport geometric patterns and sophisticated curves, and are often rendered in brass or other luxurious materials." —Alessandra Wood, interior design expert and director of style at Modsy
Pattern Play

"Printed wallpapers are on the rise this fall. Expect to see an abundance of botanicals, animal prints, and bold patterns showcased in both residential and commercial spaces. This trend provides a great way to add interest to any atmosphere." –Ivy Jacques, interior designer
"Geometric and mod wallpaper in colors like reds, blues, and even some jewel tones. This complements mid-century pieces that are popular right now." —Kita Marie Williams, CEO and lead designer of KMW Interiors
The Gilded Age

"Metallics were once reserved for the holiday season. Now they're illuminating tables year-round. The fresh approach emerging this fall is toning down high-shine silver and yellow gold with burnished tones, such as gunmetal and brass. A little shimmer goes a long way." —Sandy Chilewich, founder and creative director of Chilewich
Meet in the Middle

"People are in a constant state of identity flux; they are considering their personalities as more fluid, more faceted than one categorical type that fits within a set box–and their design eye also reflects that new personal fluidity. That's the essence of my new collection for Arteriors. Each piece is architectural enough to stand alone as a statement, but they can also meld together into a compelling assemblage that is anything but boilerplate."–Windsor Smith, interior designer
Soft to the Touch

"A timeless material that continues to be on the rise, velvet, adds a luxurious warmth and texture to a room. Velvet is a fabric that wants to be bold—think statement pieces like couches and chairs in rich fall colors like royal blue, deep teal, maroon, or forest green." —Elizabeth Brown, CEO of Viyet
"The velvet furniture craze will continue to grow–from sofas and chaises to pillows and chairs. We'll see the use of richer hues incorporated for Fall 2018 to include Pantone's color picks." —Jennie Bishop, co-founder of Studio Gild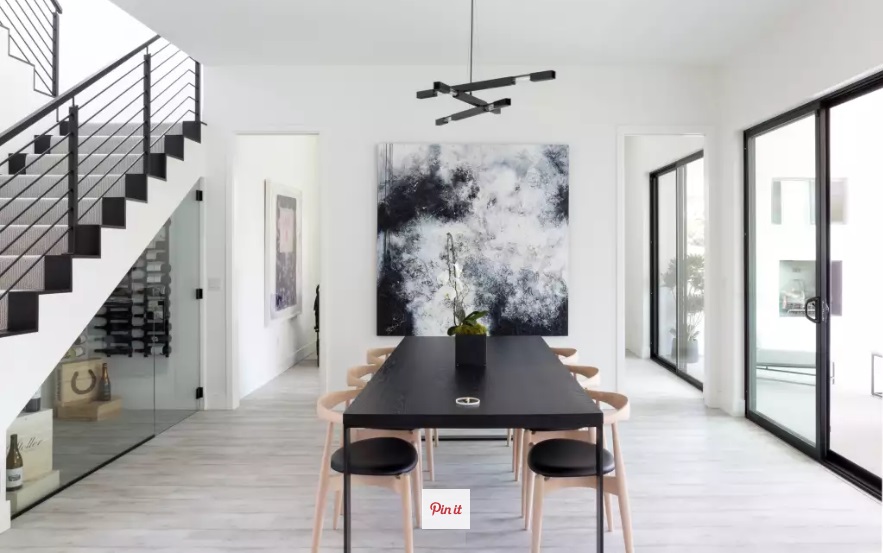 You don't have to be a design aficionado to know clean, sleek furniture and design are all the rage these days. But discerning whether a piece is minimalist, modern, or contemporary? Now, that's another story.
Chances are you've been using minimalist, modern, and contemporary interchangeably for years, without thinking twice about whether or not they're the same. It's okay, you're not alone.
"It's pretty easy to understand why people would have trouble differentiating these styles," says Kita Marie Williams, interior designer and CEO of KMW Interiors. "All three styles use cleaner lines and simpler forms than traditional furnishings and decor. All three are much less ornate and use more purely geometric lines."
Sure, the three styles may look the same, but there are small, historical differences between them. So we asked Williams to break it down for us, and here's what she had to say:
Modern:
Modern is the precursor to both minimalist and contemporary design, and generally refers to pieces that are derived from the innovations of mid-century modern designers. In the middle of the 20th century, there were core influencers—Florence Knoll, Le Corbusier, and Charles and Ray Eames, to name a few—that shaped what "modern" design is today.
Pieces like the famous "Eames Chair" and "Barcelona Chair" are examples of modern design. They're pieces that are still popular today and can run a true design aficionado as much as $5,000 or more per piece.
Minimalist:
It's simply a movement that focuses on cutting out as much "extra" as possible, reducing everything to a design that focuses on function. It also focuses on space and how open space can be enhanced by the placement of only the essential functional elements.
In this context, pretty much anything can be "minimalist" if the design prioritizes efficiency. You can have a home that is styled very "modern" with a "minimalist" overtone by only using the essential pieces for the function of that space and nothing more.
Contemporary:
It's less of a style, and more of a trend. Contemporary style is ever changing as trends change. For example, brass and gold finishes are trending, and it's very contemporary because brushed nickel and stainless steel were "in" until recently.
Moreover, contemporary style is about clean style. It's about creating a piece that is fashionable without overdoing ornamentation.
But what about mid-century, you ask?
"Mid-century modern is essentially 'modern,'" Williams explains. "Anything labeled 'modern' is essentially derived from the influence of mid-century modern designers."
Got it? Good. Now it's time to apply what you've learned to your home.
"If you're going to embrace any of these three looks, acknowledge that whatever it ends up looking like, it'll essentially be derived from 'modern' style," Williams says.
You'll want to decide whether or not you want to keep your space to the bare essentials for that minimalist vibe.
Of course, materials play a big role in whether your space is modern or contemporary. Williams says glass and metal skew contemporary, while the warm tones of natural wood create a mid-century modern aesthetic.